The Owner Statement is one of the core reports offered by ManageCasa, and perhaps the best report to share with each of your Rental Owners on a monthly basis. This report shows a summary view of assets, income, expenses, liabilities, and equity transactions over a given period of time for all properties associated with a given rental owner.
It's a great way to track the cash flow of each of an owner's properties, determine the income and expenses recorded, and view the amount you should pay out to the owner. You can also report on liabilities held and quickly recognize when you notice an owner was not paid out the correct amount.
Creating an Owner Statement on ManageCasa is easy:
Navigate to the Reports Module
Click on the Income Statement icon

Input the Rental Owner and Property for which you would like to run the report

Select the period for which you would like to run the report, or enter a custom date range

Click the Run Report Button
Your report will be generated, and you will be presented with the option of exporting it as a PDF, as an Excel File, or sharing it directly with your Rental Owner through ManageCasa.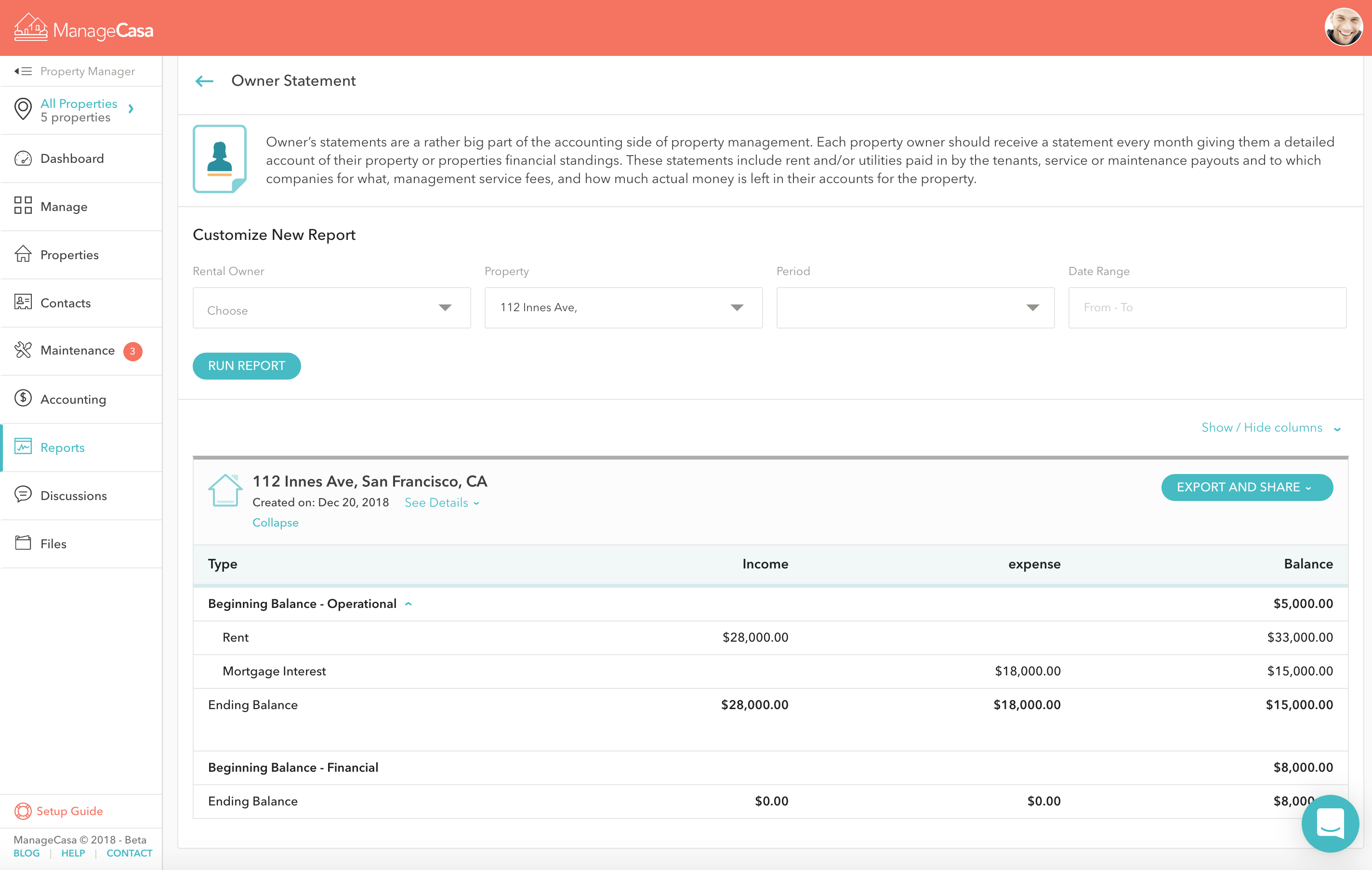 Remember:
The

Ending Balance

represents how much money a given property has on hand to pay expenses, not necessarily how much should be paid out to the rental owner - this figure does not consider a property reserve or tenant liabilities.

The Owner Statement runs on a

Cash Basis.

If a tenant pays a bill early, you may see a spike in income for this period.
The Beginning Balance - Operational represents the amount owed to the rental owner, less tenant liabilities and property reserves, as of the day before the date range of the report. For instance, if you run the report on February 1, the beginning balance is as of January 1st.